PERGOLA | PERGOLA WITH ROOF | ULTRA LATTICE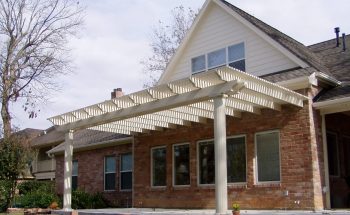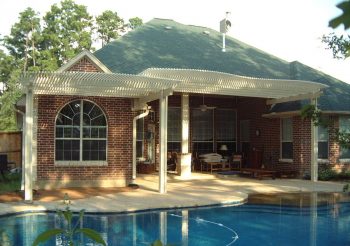 Houston Screen rooms has provided Pergolas and Lattice arbors around the greater Houston area for over 20 years. We have designed and built every type of pergola that you can imagine. Houston Screen Room can create your Patio Pergola dream. We take pride in producing combo patio pergolas that are both solid patio cover and lattice arbor combos. With our company's reputation, knowledge, and experience level, you can be sure you are getting the best. That's why we are the award winning company that so many Houstonians turn to for their next patio project. You can come to expect to be treated like family when you call on us.
Patio Pergolas is the perfect addition to your home. It's a gorgeous freestanding structure that can provide either an open or partially open roofing that is supported by columns or posts. Customer's enjoy an outdoor pergola for their garden, patio, or another outdoor location on their property. We provide quality framework topped with lattice. We custom build and custom design your pergola to your desired shape and size. If you need help trying to decide what you want with your landscape or property size, call our pergola experts at (281) 612-8339.
Houston Screen Room specialists will build you a customized patio pergola that will inclement weather and age. We build quality aluminum pergolas, because they are almost maintenance free compared to sub par materials used. This type of material is superior to other materials out on the market and frankly other materials aren't worth the money you spend on them. You won't have to worry about sanding, repainting, staining, sealing, warping, or cracking wood components eventually requiring a new pergola replacement. We care about our customers and care they get the most out of their money. Aluminum pergolas are smooth, nonporous material that won't weaken due to weathering.
A patio pergola offers our customers many benefits to include more space, shade, privacy, style, a place for a garden, and add value to your home.
More Space
With a patio pergola, you have an extension to your outdoor living space. You will be able to relax and enjoy time outdoors without having the sun beating on your back. More space to enjoy and stretch your legs.
More Shade
Our customers don't have to slather suntan lotion all over or get full exposure to harsh UV rays when they have a pergola. Our customers can choose how much sun they desire on their patio. During the summer months, it is more important to have shade if you want to enjoy your outdoor patio space. Houston Screen Room can give you the shade you are looking for with our well-designed custom pergolas.
Sense of Style
Why not add fashion to your outdoor space? You can show your style with different frameworks of lattice. You can expect compliments from everyone with your appealing new pergola.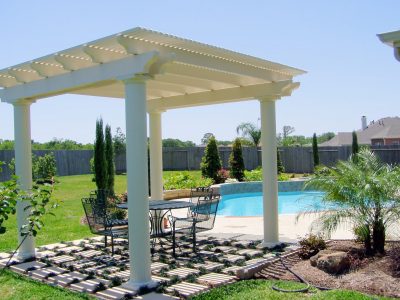 Even add some greenery to your pergola to add some color to your space. You can design a garden in and around your new patio. This can be a nice feature to compliment your landscape. Imagine climbing plants, vines, and flowers surrounding your new patio. That's a great place to relax and unwind.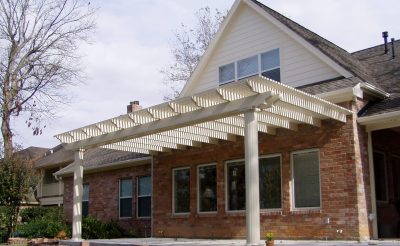 A pergola offers a way to increase your privacy from nosy neighbors or a passerby. Houston Screen Room and strategically customize your patio pergola to enhance privacy for more of an reclusive experience while relaxing in your back yard.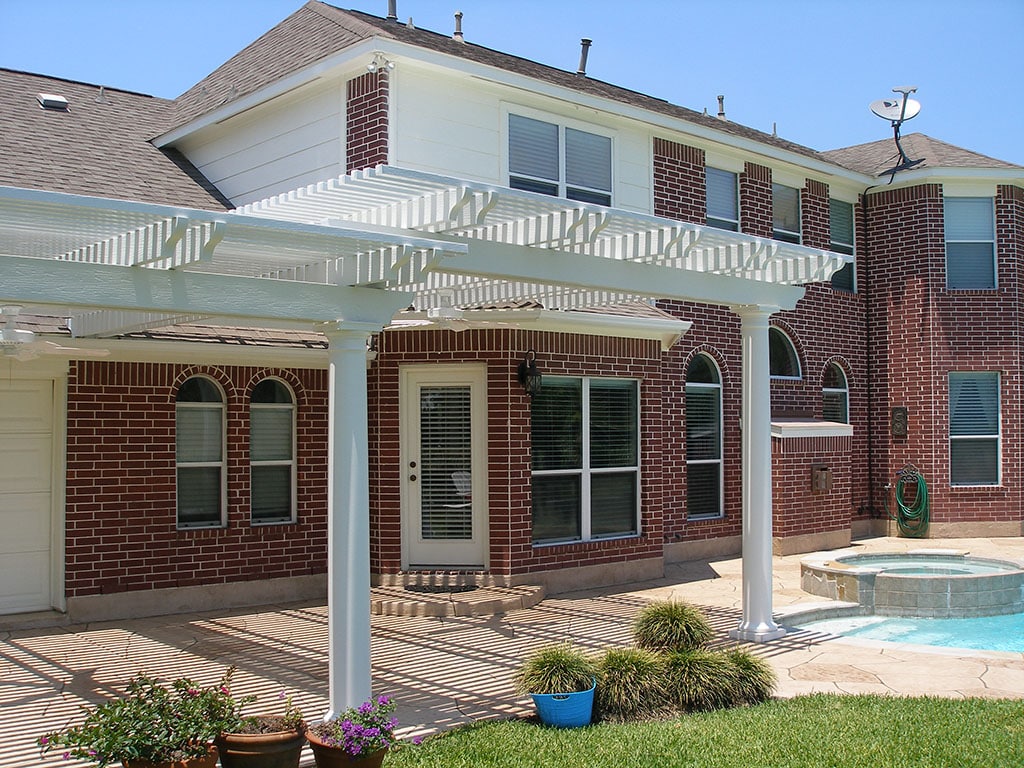 According to experienced Realtors, they always inform home buyers the benefits of an existing pergola in a home they wish to buy. A pergola is a desired feature in a home and will help you get more back when you sell your home. If you are looking for ways to increase curb appeal, a patio pergola is definitely a way to do it!
Some of our customers want pergolas to cover a walkway or provide filtered shade for their patio. The wonderful thing about this type of patio is that it is your canvas. You are the artist. You can add mother nature to your pergola to add a pop of green to your patio. Your patio can be a sanctuary of climbing vines and colorful plants that will make your patio a place where everyone in your home will want to be. Find your inner artist and get started on your canvas today at (281) 612-8339.