EQUINOX LOUVERED ROOF | ADJUSTABLE PATIO COVER | LOUVERED ROOF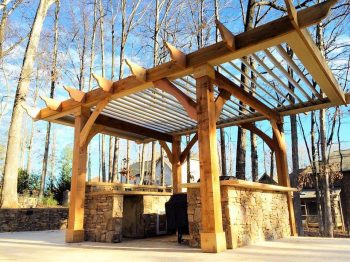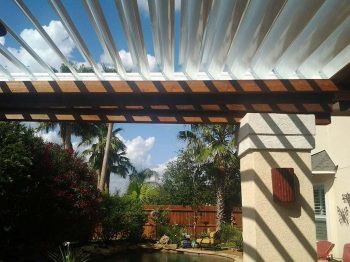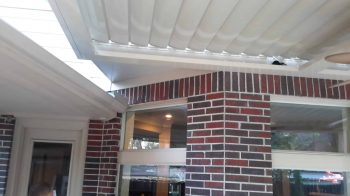 First off, our Adjustable Patio Covers open and close. Equinox Louvered Roofs are the best option for patio covers in the Market. They give you complete control of your outdoor environment. Open the louvers and get some sun. Use the remote to tilt the louvers with 160 degrees of motion!. Lastly, you can close the louvers and have a solid patio cover. This option keeps you dry during the rain. Our Adjustable Patio Covers are elegant, yet functional, and built to last. Choice from 5 beautiful colors. White, Clay, Sandstone, Bronze, and Black. You can use any materials around the frame of the equinox louvered roof to match the look and feel of your home.
When you are working with a company like us, you have the most talented installers in Houston. We can build our Adjustable Patio Covers in about any configuration to match the architecture of your home. What does that mean exactly? Easy! We can build Studio Roofs which are typically almost flat. Studio Roofs have just enough pitch to roll the water off of them. Gabled Roofs are more common. They have two sloping sides that come together at a ridge. A combination of the two lets us further customize the design to really match your existing architecture.
We can design our louvered roof to match any look you like.  You can see form the pictures that rustic cedar give a very warm, rustic feel to the patio cover.  Cedar has proven to be a timeless look that complements about any outside decor.  
If you prefer sleek and modern, we do that too.  Equinox Louvered Roofs provide clean lines and a modern feel.  You can have matching colors on the frame and louvers, or mix the colors for a contrast that pops.  
If you prefer sleek and modern, we do that too.  Equinox Louvered Roofs provide clean lines and a modern feel.  You can have matching colors on the frame and louvers, or mix the colors for a contrast that pops.  
Lastly, we can do natural stone, stucco, or brick to really integrate the louvered roof into your space.  We've done this for a while so we can well design a patio cover that is going to complement your home.  Our patio covers will not look like an after thought addition, it will look liike it was included in the original design of your home.  
All of our components are made from Aluminum and stainless steel. There is no reason to worry about rust with our Louvered Roof System. Houston Screen Room offers a versatile system that can be adapted to many different functions or activities. Outdoor Kitchen? Yep, our fully automated patio cover is perfect for your outdoor kitchen. Press the button (yes they are remote controlled) and open the louvers to enjoy the sunshine, or press it and close the louvers for a watertight seal and rain protection. Our Louvered Roofs are completely customizable. We can literally apply any material to the Equinox Frame and achieve any look or feel you can imagine. Do you like rustic cedar? Well tons of people here in Texas do and just look at some of these awesome rustic looking but fully automated patio covers that we have designed and built.
An important fact about our adjustable patio covers is that they are motorized.  Sure there are competitors out there that offer a cheap adjustable patio cover.  A Solara patio cover, for example, has a roll formed and manually operated patio cover.  They talk about how inexpensive the Solara patio cover is. The reality is louvered patio cover cost depends on what you want. If you want a Bentley, buy a Bentley.  Roll formed and manually operated makes as much sense as picking your dream Bentley and asking the salesman to save a few dollars by switching to the ole "Fred Flintstone Power Train" or maybe the 1983 Jeep CJ5 Suspension. If you're looking for Houston's Best Equinox louvered roof dealers, you found them!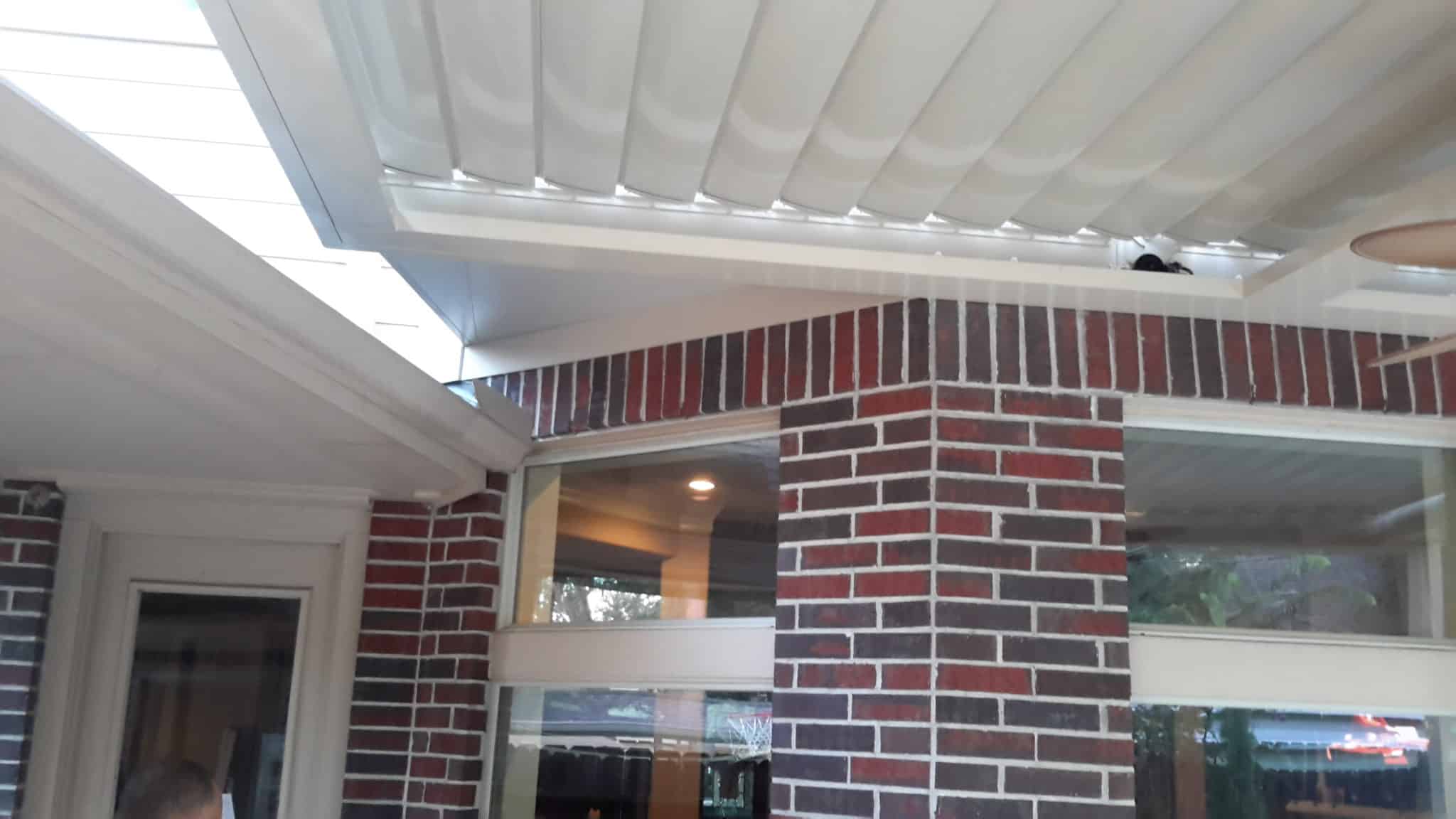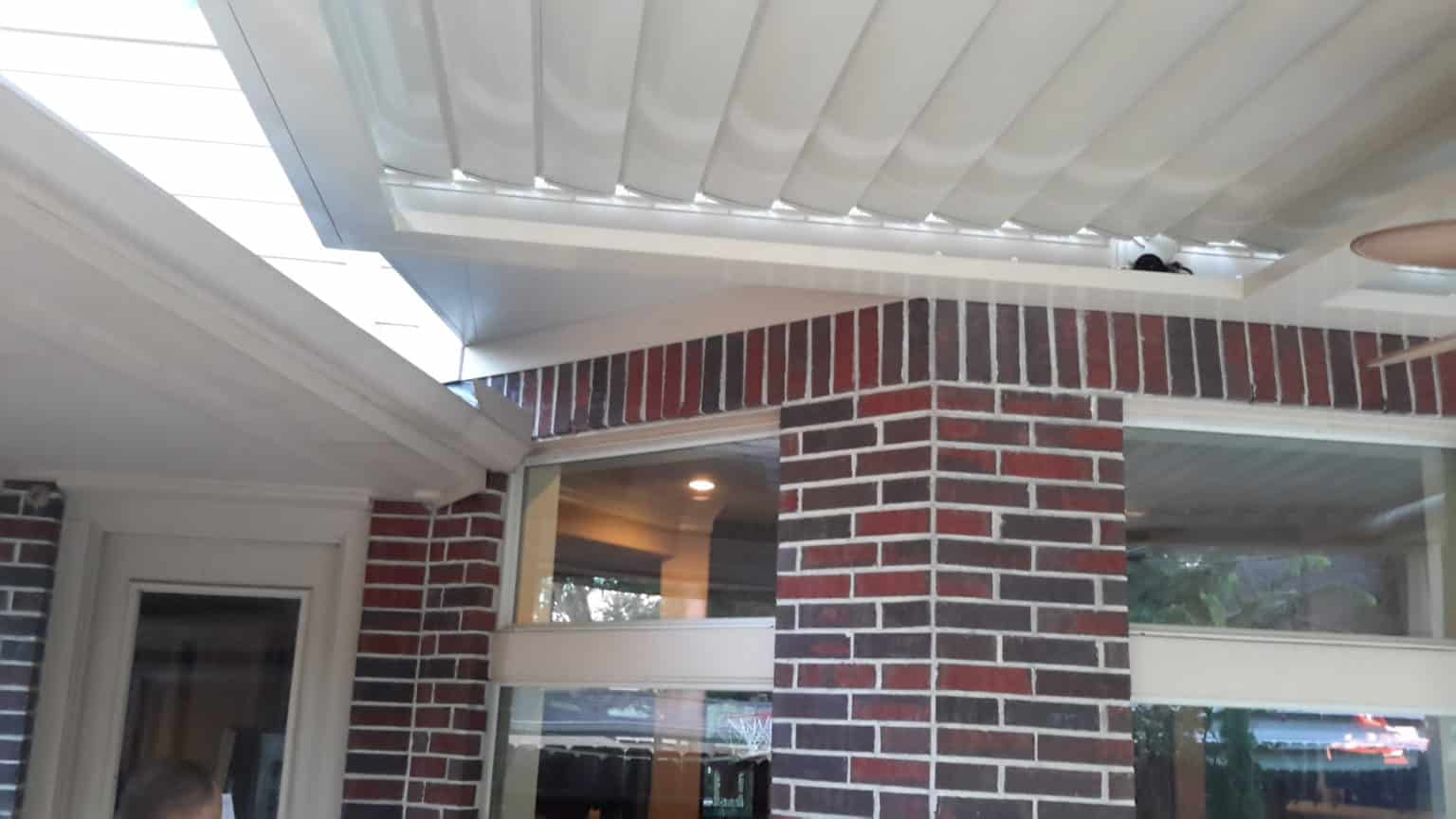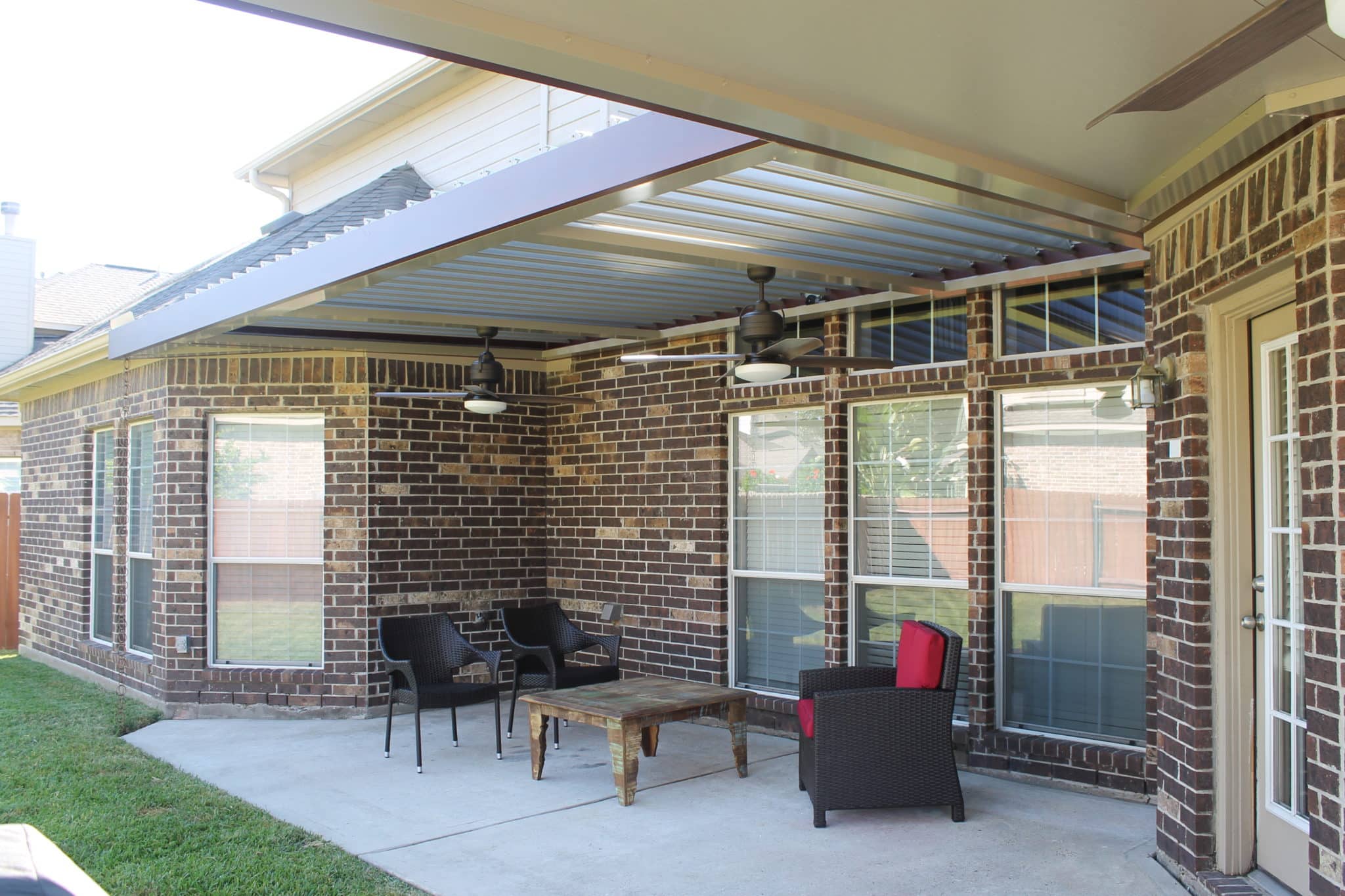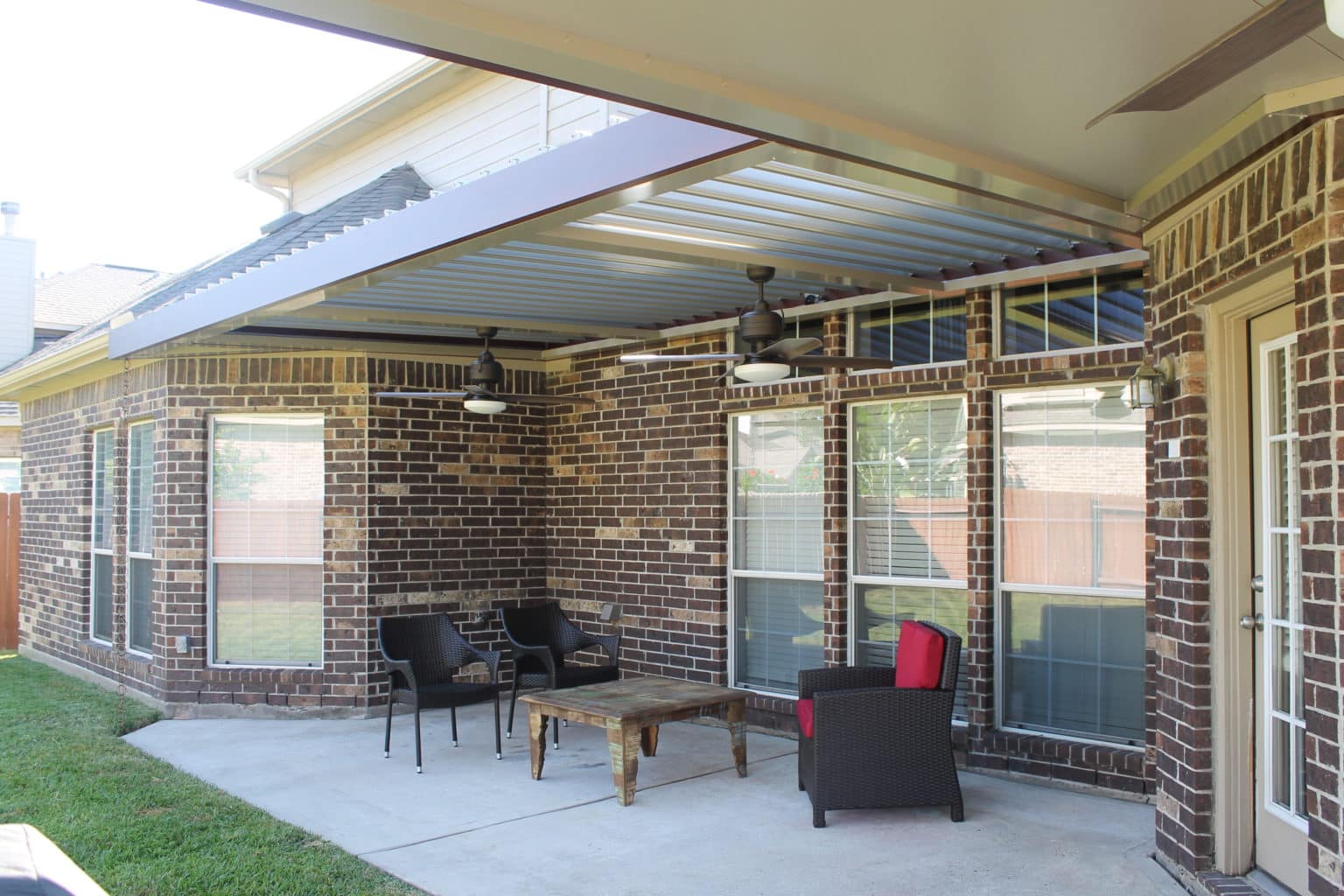 A louvered Roof is ideal for anyone that wants to take control of their backyard or business patio.  This type of patio cover lets you open and close the louvers.  You have complete control over how much sun or shade you want.  There are a couple other types of louvered roofs on the market, but equinox is the absolute best.  The Equinox Louver is substantial, in fact we refer to it as the insulated louver.  
If you were to leave a sample piece louver from any competitor out in the sun, say for ten minutes, then try and pick it up it would burn your fingers.  If you take the Equinox Louver and leave it out all day it wouldn't matter.  The louvers don't transfer heat.  Yes they are aluminum, but they have a dead air space inside.  Sure the top that is facing the sun would be piping hot, but the bottom side would be normal temperature.  
Why does this matter?  Great question…  It's the same reason that we only build insulated patio covers not corrugated aluminum patio covers. The point is to get shade, not build an outdoor oven.  If you have ever stood under a thin aluminum carport you know what we're saying.  The Equinox Louvered Roof is of the highest quality.  When the louvers are closed you will enjoy the shade without having to endure oven like radiant heat.