PATIO COVERS | HOUSTON PATIO | PATIO COVERS HOUSTON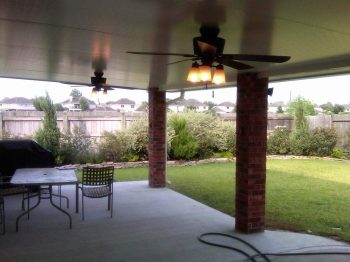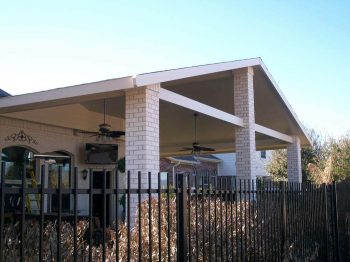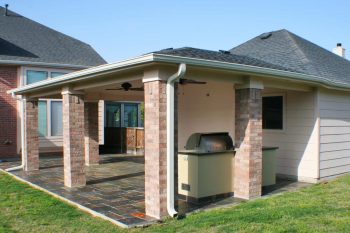 If you have a back patio, you need to have a patio cover in Houston. People need a way to relax outdoors. A place to share time with friends and family. Houston Screen Rooms has been providing Houston patio covers for over 20 years. We are proud to create in your backyard a way to stay cool from the hot summer heat and dry in the cold winter's rain. If you want a great patio cover, call us today or fill out the form and we will call you! We want to get you a new patio cover to complement your home and maximize your outdoor space.
A Houston Patio cover is a simple way to transform your back porch into usable space outdoors. Let us turn your ordinary patio into a shaded retreat. We'll create a space where you can spend time relaxing. Better yet a place to escape the harmful UV rays of the sun.
We custom design our patio covers to match your home's architectural design. They are a 3″ Insulated Roof System that has an "R" 19 Rating. The dense 3″ core makes for an awesome insulator. Our 3″ roof systems can be shingled to match your existing roof color, which most subdivisions require.
Home Owner's Associations – We also take care of your Home Owner's Association for you. Decades of experience let us easily get projects approved. We have patio covers installed in neighborhoods all over town. We offer two roof styles, Studio or Gabled, both of which can have ceiling fans or lights added for your convenience. Virtually maintenance free, our patio covers are impervious to insects, will never rot, crack, or warp. The finish retains its original color, texture, and glossy look longer than any other product on the market. Our design specialist can show you ways to combine a solid cover with our lattice arbor to create the best of both worlds. We also have a Sante Fe Trim Package and matching post to dress up your cover. Let us design the perfect retreat to start enjoying your backyard in comfort and style.
Call us today to schedule your Free Estimate or fill out our form and we'll call you.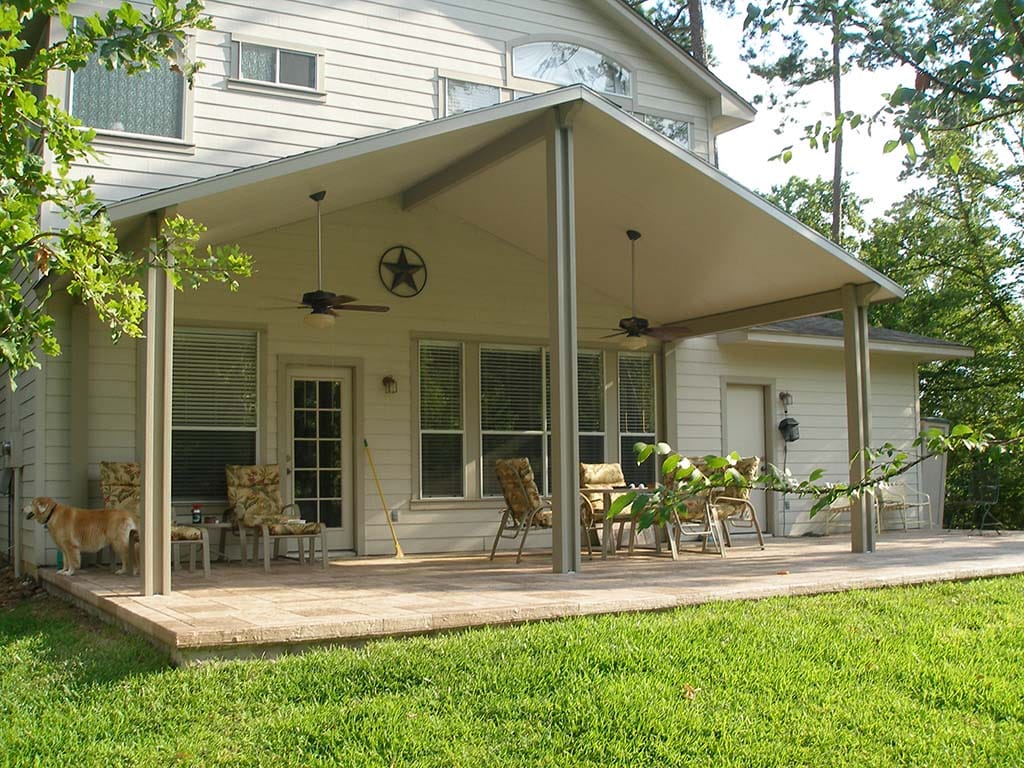 Texans lover their Patios to enjoy the outdoor lifestyle. We build unique custom patio covers designed to help you enjoy the place you live. Patio builders in Houston know the importance for a great entertainment spot at home. We offer a spot for relaxation and to enjoy your outdoors.
We are premier patio builders in Houston. Our insulated patio covers provide shade, cover your patio, add beauty, and value. It is always best to hire a professional when looking for backyard shade solutions. Houston Screen Room is an experienced company serving Houstonians for over 20 years. If you are thinking about a custom designed patio cover, call us at (281) 612-8339
We've built our business with relationships. When you provide quality work, great customer service, and a top quality product people keep coming back. If you are thinking about our aluminum patio cover, check out our reviews! Anyone who has worked with us in the past will recommend us. We're certain you won't have any problems being convinced that Houston Screen Room has the best custom patio covers. To get a free estimate, Click To Call (281) 612-8339 or fill out our form and we'll call you!
We are premier patio builders in Houston. Our insulated patio covers provide shade, cover your patio, add beauty, and value. It is always best to hire a professional when looking for backyard shade solutions. Houston Screen Room is an experienced company serving Houstonians for over 20 years. If you are thinking about a custom designed patio cover, call us at (281) 612-8339